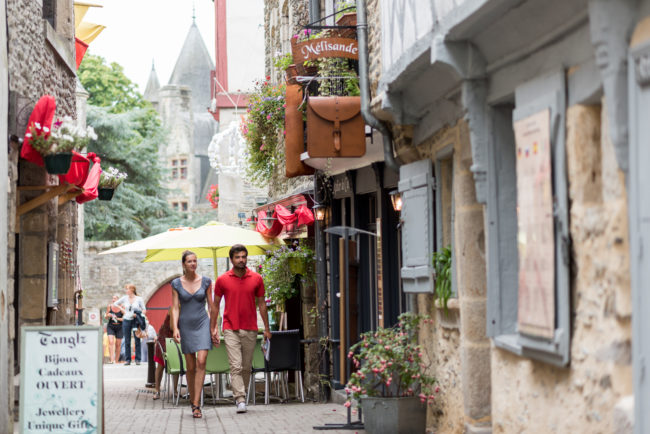 DISCOVER MEDIEVAL JOSSELIN AND A THOUSAND YEARS OF HISTORY
Josselin's charming historic centre is steeped in history. Exploring the narrow, cobbled streets you will discover numerous half-timbered houses – the oldest dates from 1538 – and some magnificent town houses. A tourist circuit explains its history and its architecture and will eventually lead you to the right bank of the Oust and the delightful Sainte-Croix quarter.
Classified as a Petite Cité de Caractère – literally a small town of character – Josselin is a source of inspiration for artists and craftsmen and women, many of whom exhibit and sell their creations.
Josselin also derives its charm from its exceptional natural environment. The canalised river Oust offers wonderful walking and cycling along the picturesque towpath, or visitors can hire boats and canoes on the quayside at the foot of the castle walls. Just by the lower castle gates is the Bois d'Amour – literally, Wood of Love. The Minette, a tributary of the Oust, flows through the wood, where you will find groves of rhododendrons and bamboos, with a visitor circuit designed around the flora and the fauna. A pleasure for young and old alike.
For more information, contact OFFICE DU TOURISME DE JOSSELIN
Tél. : 02 97 22 36 43 (English spoken)
Email: contact@broceliande-vacances.com